Procedure for machine maintenance in manufacturing industry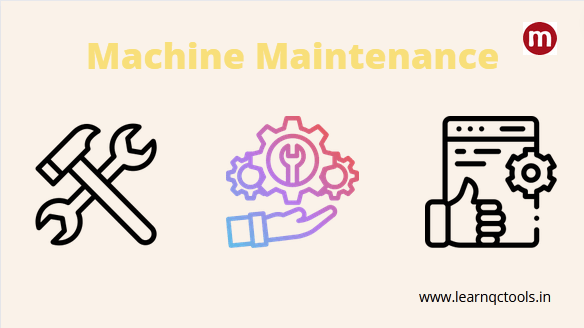 Purpose:
The purpose of this procedure of machine maintenance is to explain and understand steps of attending machine for maintenance.
Scope:
To ensure plant and machinery list is available and updated as on date
This procedure covers the planning, monitoring & controlling of maintenance Operations.
To ensure timely inspection and safety of machines & other compliance.
To ensure that all testing and measuring equipment available on the machines should be calibrated periodically.
Responsibility:
Maintenance in-charge is responsible for all the activities on time.
Procedure:
Master list of machines:
Prepare master list of plant and machinery along with sanction load of the factory.
Machine location should be mentioned in the List for immediate availability of working capacity.
List should be updated at every three months for any deletion /addition.
Identification of machine:
All machines should have Unique identification Number for easily traceable at shop floor like any of as machine description, Make, Type, Model No., Capacity, Installed location, Qty. etc.
Ensure identification should be marked on each and every machine.
Preventive maintenance of machines:
To ensure that machine preventive maintenance schedule is prepared
To ensure that machines preventive maintenance parameters should be defined for all the machines.
To ensure machine preventive maintenance is done as per schedule defined.
If any problem found during the preventive maintenance, machine should be repaired in-house if possible or immediate call to external agency without any delay duly inform to Maintenance Head.
If not repaired please put a tag of under maintenance.
The work carried out is recorded in prescribed format.
Breakdown maintenance of machines:
A Verbal Intimation and Breakdown Slip is made from respective department to Maintenance Technician regarding breakdown of the machine or not working properly.
The Concerned Maintenance Shift Technician will immediately go and assess the problem. At this time, he will organize manpower to attend the problem on priority basis. He will communicate expected time of completion of work. Also if more than one breakdown is to be attended then priority is taken from HOD Maintenance in consultation with concerned departments.
Once work is done, trial is conducted and handed over the machine to Production after successful running. If some short time arrangement is done to run the machine at this particular point of time due to production requirements or other reason then the same is communicated to Production and HOD Maintenance.
If problem not rectified in-house, immediate call to external agency without any delay duly inform to Maintenance Head.
If machine repaired by external agency, machine service report should be taken from service engineer.
The work carried out is recorded in prescribed format.
Predictive maintenance of machines:
Predictive Maintenance of machines to be planned and carried out as and when required / before the failures occurs.
General techniques to be include as evaluating Vibration analysis, Sound level measures, oil analysis and other concern tests recommended by manufacturer.
The work carried out is recorded in prescribed format.
Spare parts inventory and procurement:
A record is maintained for spare parts consumption and procurement is done.
Breakdown analysis:
Breakdown analysis is done on criteria as Top breakdown,breakdown more than 2 hrs in a day, repeated breakdown more than 4 times for same problem.
Breakdown analysis is done in prescribed format.
Relevant document to be updated like daily machine check sheet, machine preventive maintenance check sheet.
Horizontal deployment to be done.
Read the Story about machine maintenance Process.