Purpose:
To establish a procedure for control on Error Proofing Devices and to ensure that Error proofing / Poka Yoke activities are implemented effectively in the organization.
Scope:
Applicable to all Production Processes in the organization
Responsibility:
Production incharge with the support of Maintenance incharge is responsible for the implementation.
Procedure:
Master List of Error Proofing:
The need for error proofing is identified based on the following situations & same is included in the list of Error Proofing:-
Error Proofing identified through PFMEA
Error Proofing identified through Customer Complaint Handling
Error Proofing identified through Internal Rejection Control.
So input for the error proofing list is PFMEA, Internal & Customer complaint handling.
Daily Poka Yoke Check Sheet:
The Error Proofing is verified for effective implementation through the Daily Poka Yoke Checksheet & Record of the same is maintained.
Where the Error Proofing Device fails Temporary Process Control is implemented as per the procedure for Temporary Process Control.
Whatever products are produced during the error-proofing device failure are considered to be suspected products & they are handled as per the Procedure for Control Non-Conforming Products.
Once the Error Proofing Device is reinstated after rectification they have been verified for correctness before handing over it to regular production.
Replacement of checking devices/ challenge part:-
All the checking devices or master/challenge parts that are used for verifying the error-proofing devices are replaced at the frequency defined & record of the same is maintained. The due date for replacement is also specified on the device or master/challenging part.
Calibration of Error proofing devices:-
All the Error proofing devices which require calibration are calibrated & record of the same is maintained as per Procedure for Control of Measuring & Monitoring Equipment & Gauges (Calibration Procedure)
Breakdown analysis of the Error Proofing device:
When there is any breakdown in the error-proofing device, then analysis of the breakdown should be done by the incharge with CFT.
Suggested Format for Master List of Poka Yoke: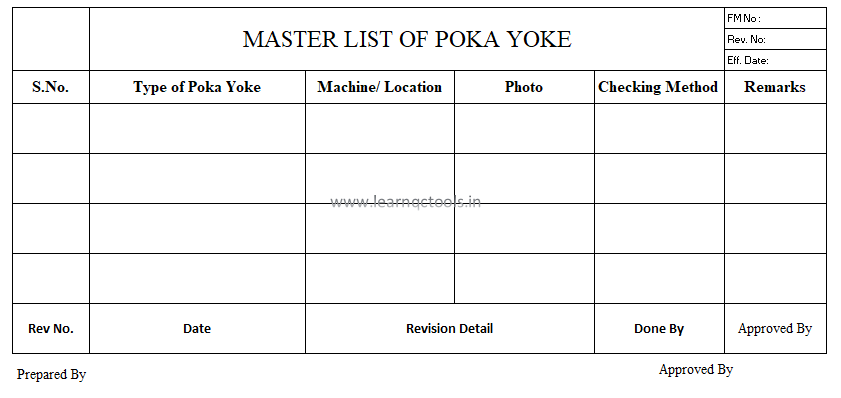 Format for Daily Poka Yoke Check List:
Note: These Error Proofing details can be added in other procedures like the Maintenace procedure or Production procedure.
For more information about Poka Yoke.