Purpose :
To establish a procedure for a temporary change of process control and to ensure that temporary changes are implemented in a planned and controlled manner.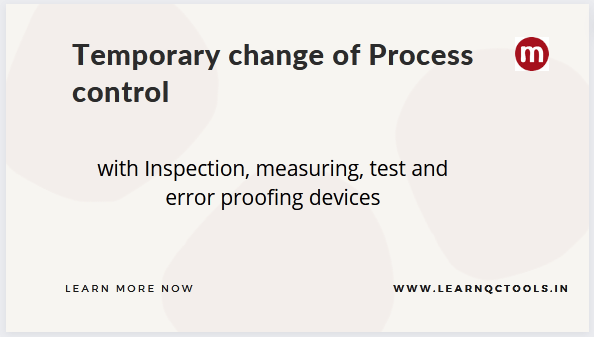 Scope :
Applicable to all production processes.
Responsibility :
Head QA is responsible for controlling this activity.
Procedure :
Temporary Process Control List :
Head QA maintains the list of approved temporary process control to be applied to various processes. Input can be taken from the control plan to prepare the temporary process control list. It includes inspection, measuring, testing and error-proofing devices (Poka Yoke) etc.
Temporary Change of Process Control Approval :
When any temporary process control to applied in the process due to failure of primary process control. Then request for the same is raised by the concerned department to QA Head. Where required customer approval will be obtained before implementing an alternate process control method. Also before dispatching a product that was inspected or tested using the alternate control method, if required the organization shall take approval from the customer.
Work Instruction and Training :
All the temporary process control are implemented as per the respective work instruction/operation standard. All the concerned operators have been given proper training before implementing the temporary process control.
Identification &Traceability :
All the products which are manufactured/Inspected/Assembled/Tested are identified with a traceability system so that they can trace back if any problem is observed. Also do verification and retention of the first piece and last piece from every shift.
Temporary Process Control Audit :
All the temporary processes are audited ( Layered Audit as applicable) on a daily basis by Q.A. & result of the audit is discussed in Daily Morning Meeting with Plant Head.
Primary Process Control :
The Primary Process controls which are not being implemented in the shop are reviewed on a daily basis for progress with the intent to implement the same as soon as possible on the shop floor.