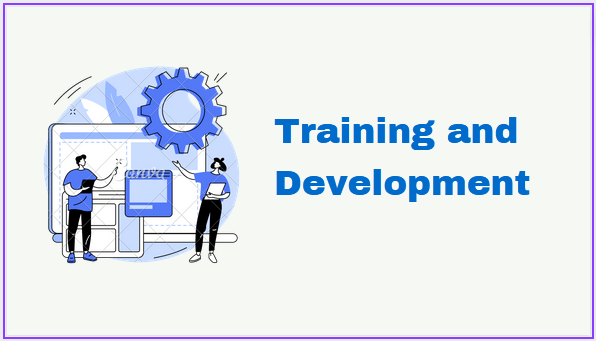 Purpose:
To ensure that the personnel performing work affecting product quality are competent on the basis of appropriate education, training, skill & experience. Also to motivate employees to achieve quality objectives, continual improvement and create an environment to promote quality culture and innovation.
Scope:
This procedure relates to all personnel carrying out activities affecting the quality of products and related services.
Responsibility of training :
The overall responsibility of maintaining the effectiveness and implementation of this procedure lies with HR Head.
Training procedure:
Training need identification (TNI) :
Competency needed for different staff of each department is determined on the "Competence Level Requirement Sheet" and training need is developed for each employee in the "Training Need Identification Form". Training for staff is identified by HOD and by himself. Also review training topics as per needs of the respective department.
The training need of associates is identified by the supervisor through verbal interview and observation. The topic for training should be selected as per need required on the basis of their working in the respective department. Also review training needs ( Topics) each year as per skill required on the basis of working, skill evaluation & skill level criteria.
Training Topics :
Training topics for staff can be selected from the below list:
Statistical Process Control (SPC)
Measurement System Analysis (MSA)
Advanced Product Quality Planning (APQP)
Production Part Approval Process (PPAP)
Failure mode effect and analysis (FMEA)
7 QC Tools
ISO / IATF 16949
Cost of Poor Quality (COPQ)
8D / CAPA
Product & process audit
Training topics for associates can be selected from the below list :
5S
Suggestion & Kaizen
FIFO
Identification & Packing
Fire & Safety
Safety PPE
Machine check sheet
Operation standard
Material Handling
Training Method:
On the basis of training needs the "Annual Training Plan" is prepared and training is imparted as per plan by trainers identified, including external trainers or at the external training center. All participants' presence is recorded in the "Training Attendance record". Training effectiveness is verified by the trainer after one month & the effectiveness record is maintained in the "Training Effectiveness Record" and if the number of participants is absent on the scheduled training date, in this condition, make a plan for those training topics and deliver training within one month. Training feedback is taken on the same day. Training effectiveness for staff is evaluated by HOD on the basis of improvement in their working. There should be a training room ( DOZO ) in the company for providing training. Arrangements for re-training are made for those employees whose effectiveness is found less than 60% within a week.
Download the Training Module cum Training Record Format:
New Employee Training:
All new entrants are given induction training by the concerned HOD to be aware and familiar with the quality management system and the consequences of nonconformity to quality requirements to customers. Cover all employees' company roll and contracts.
 All employees are made aware of the technological changes & provide training as per the training plan on the basis of TNI & new joinee provide training as per the New joinee training record on the following topics – 
Company profile
5S
Safety
Part Handling
Work instruction
Process awareness,
Product awareness
Document knowledge
The above training is provided to achieve quality objectives through a specified designated training program. ( Dozo Training program)
New Joinee training shall be delivered on the same day. The first day produces quantity will be verified by the concerned supervisor. The new joinee will work under supervisor observation for one week and maintain the record in the new joinee production monitoring record. For new joinee in PDI conduct poison tests and maintain inspection records for one week. After one-week concerned department head evaluates the skill through a level-wise questionnaire sheet as per skill evaluation criteria and updates the skill matrix within a month.
New Operator training criteria:
 New Joinee training shall be delivered on the same day as per the defined criteria for the experienced operator and fresher operator. The respective operator can achieve the desired skill level after the defined below criteria.
| | | |
| --- | --- | --- |
| Experienced operator | Fresher Operator | Skill level |
| one day | two days | L-1 |
| 3 days | one week | L-2 |
| One Week | Two week | L-3 |
| Six Month | Six Month | L-4 |
Prepare skill matrix for standard room person and provide training related to equipment and related field as per training plan & maintain training record with effectiveness as per training provided.
 Conduct Operator Observance for all operators covering all operators & both shifts from each department if any operator does not qualify then provide training on the same day & check the effectiveness as per criteria.
Conduct Poison Test as per poison test WI for all final inspectors as per plan to check inspectors are capable to detect the defect if an inspector is not qualified then provide training on the same day & take the poison test again after training.
 On-the-job training is provided to the personnel in any new or modified job affecting product quality.
The process is established to motivate employees to achieve quality objectives to make continual improvements. This process includes the promotion of quality and technological awareness throughout the whole organization.
Multi-Skilled Operators:
Select some operators as per requirement for multi-skilling in each department. Provide training to them from level 2 and upgrade them. The target should be to upgrade them to at least level 3.
Skill Matrix:
For Operators & Inspectors, a Skill Matrix is to be prepared. In skill matrix defined skill level as per skill evaluation criteria. Take level-wise theoretical question papers and practical evaluations ( Qualitative and quantitative). Then update the skill matrix and display in respective departments. During skill evaluation, if the skill is found less than the previous level make a plan for re-training within a week. Skill evaluation and skill matrix shall be reviewed after six months.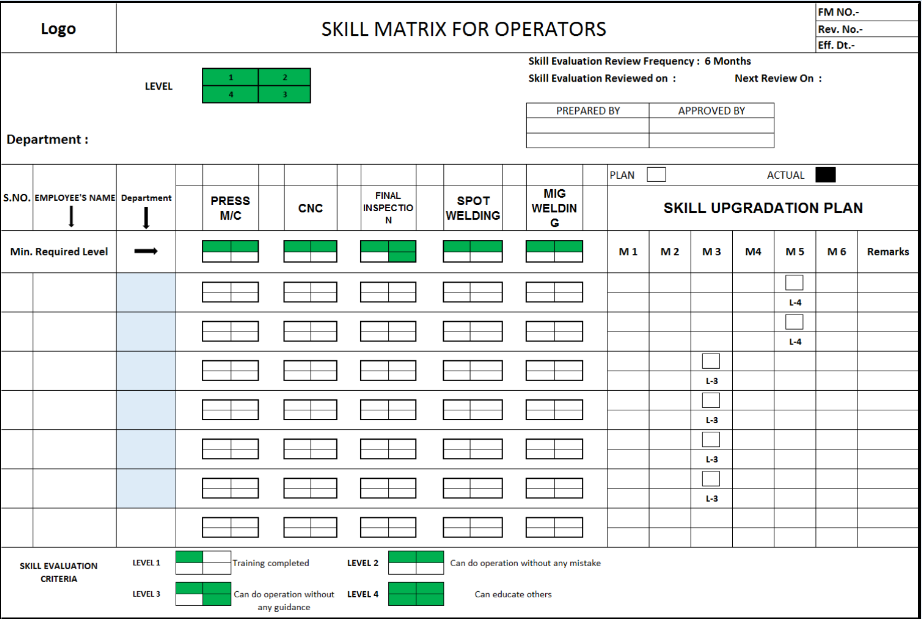 Download the Skill Matrix Excel template:
Skill up gradation :
Make a plan for the skill upgradation of each employee in each department. The target for upgradation should be at least level 3 which means 'can do operation independently. After that, we can plan only some of the selected operators to level 4.
New Product Training:
The development Head / QA Head will provide training to all concerned persons such as Operators, Supervisors, and Inspectors about Product and Customer-specific requirements before the SOP of the product.