Operator observance:
Operator observance is doing the observance audit of the operator as per defined checkpoints without informing the operator. It is done as per the defined plan. All operators and all shifts must be covered in operator observance. It is also very important for skill evaluation and performance checking of the operators.
Work Instruction for Operator Observance :
Prepare operator observance plan as per defined frequency (3 or 6 months as per need)
Cover all the operators and all shifts in operator observance.
If an operator is absent, then conduct re-observance of that operator when present in the month.
Keep WI/OPS in the file before conducting operator observance and conduct with an observance check sheet. (Work Instruction / Operation Standard)
Conduct operator observance without informing the operator.
Maintain operator observance record and take the sign of the operator.     
If the operator is found not working as per standard or is not able to give an answer, provide training and maintain the record.     
Conduct operator observance again within a week to check the effectiveness of the training.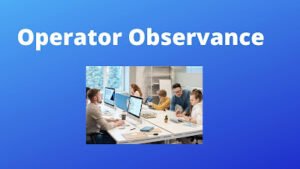 Operator Observance Check Points:
Does he report to duty on time?
Does he properly wear safety items, PPE (Personal protective equipment) & uniform?
Does he clean the workstation & equipment?
Does he work as per work instructions/operation standards?
Does he follow quality checkpoints?
Does he check the first piece?
Does he complete the job during breaks?
Does he update the daily machine check sheet?
Does he maintain an hourly productivity sheet?
Does he work as per the production target / Cycle Time?
Does he behave well with co-operators & supervisors?
Does he put the rejected items in the red bin with proper identification?
Does he ask for help in abnormal situations?
Does he know the current in-house / Customer defects?
Does he know the critical quality points of his station?
Does he know the quality policy?
Does he hand over the work to his reliever?
Does he leave the station in cleaning condition?
Operator Observance Check Sheet: