How to do Red Bin Analysis?
What is Red Bin Analysis?
Red bin analysis is to segregate and verify the defects occurring on production lines including inspection lines on a daily basis by a cross-functional team. Then understand the defects & do root cause analysis and take countermeasures as early as possible. It is a process where we do recording of previously rejected parts, do analysis with CFT & then possible corrections & corrective action are taken with target & responsibility.
It is very important to prevent the recurrence of defects and control the defects at their early stage. Red bin analysis can be done on a daily or weekly basis as per requirement. But it is better to do a red bin analysis as early as possible.
Red color bins are used to store rejections on each machine or line.
Why Rejection Analysis is important?
So it is very important to do red bin meeting on daily basis & take action accordingly.
Steps of Red Bin Analysis in Quality Control :
Benefits of Red bin analysis:
Countermeasure Action :
Make a monthly summary of the red bin record. Do Pareto analysis defect-wise and then part-wise. Take action on top defects as per Pareto chart for each section/shop. Take action as per internal QPCR criteria. It can be the top 2 or 3 defects. Also, decide min quantity for daily analysis. It can be 5 or 10 as per requirement. Find out the root cause by using a cause-and-effect diagram and why-why analysis. Countermeasure action should be implemented and results should be verified at least once a month. The countermeasure should be recorded in the red bin defect tracking sheet so that the trend can be monitored in relation to the countermeasure action taken.
Standardization & Horizontal Application :
After implementation of the countermeasure update the relevant documents & get them approved. Provide training to the concerned person. Also horizontally implement the action on a similar process or part. Also update the relevant document of a similar part or process.
Red Bin Analysis Sheet :
In the red bin analysis sheet, we do recording of rejections on daily basis. After recording and analysis in this sheet, move all rejections to the scrap area from all the red bins. The responsible person should take action accordingly within the time period defined. The below details should be entered in the red bin analysis sheet.
Red Bin Analysis Format: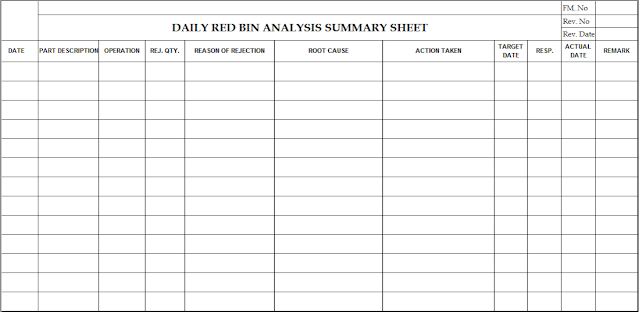 Red Bin Meeting Attendance Sheet :
In this sheet, attendance is marked off all the CFT members on a daily basis while doing red bin meetings. All members with leaders should present in the red bin meeting effectively.