4M change:
Change in any of 4M (Man, Machine, Material & Method) is called 4M change which can be plan change or un plan change.
Plan changes are the changes when we have prior information about change and action can be taken as defined.
Un plan change is the change when we have no prior information about the change and sudden action to be taken as defined.
Examples of plan change are machine preventive maintenance, new operator etc. Examples of unplanned change are machine breakdown, operator illness, tool breakdown, process parameter change etc.
What is Change Approval?
It is taking action as per defined work instruction for any type of change & taking approval internally from a responsible authority or from customers as required.

What are the steps for 4M Change Approval?
• Prior approval should be taken from the customer before implementing any change.
• All inspection report and relevant document should be submitted to the customer with the change point mentioned.
• There should have a proper identification system to identify and trace the parts after the change point and the parts produced before any unplanned change.
• It should be ensured that parts produced before the change and after change point implementation do not get mixed up.
• Before supplying the change parts, communication should be given to the customer.
•A system for 4M change management should be defined so that no unauthorized changes are implemented
What are the 4M changes for which customer approval is required?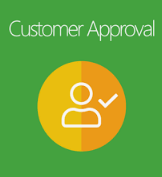 • Design change
• Material change
• Any part or process outsourced
• Sub supplier change, raw material supplier change
• Location change
• Inspection method change
• Die / Jig / Fixture change
• Process sequence change  
4M Change Approval Process :
Change request along with inspection report and sample should be submitted to customer. For the change in Maru-A (Product safety) & functional parts, evaluation of parts submitted through "change approval request" can be done in two stages,  
1. Initial sample evaluation (Initial part)
2. Peak production verification trial (PPVT)
For all 4M changes, the supplier should keep all the evaluation record with him and the same should be provided to the customer on request.