How to manage initial supply control during SOP after NPD?
Purpose of initial supply control
Special control needs to be exercised during the initial phase of mass production when one of the above items occurs with the purpose of collecting of sufficient data to judge whether the mass production can be continued using the existing process. So this is the purpose of initial supply control. It is also called initial production control or initial supply control.
Scope:
This procedure applies to all groups of new development, products manufactured by the organization and any ECN change raised by the customer.
This procedure is also applicable for the new BOP part /change part at the supplier end also.
Responsible for Initial Supply Control
Development Head is responsible for initiating and terminations of the initial supply control activities.
Initial Part:
Part produced during Trials, T0, T1 & Pilot lots of new product development, ECN, Process change ( PCN ) or any major change in tool/die is called the initial part.
The flow of Initial Part:
Order receipt from customer
Tool trial
Production trial
Mass production trial
SOP at customer end
ECN receipt (if generate)
Process change note (if generate)
SOP after a process change
Initial Part
Handling of Initial Part:
Initial products handle with extra care during the manufacturing process :
Display identification tag on initial product manufacturing machine.
Put initial part in the green color bin for Initial Part.
Put identification tag on the initial part
Prepare report for initial product
Put the initial part in Lock & Key & keep only updated or recently produced part and scrap the old parts.
Send initial part to the customer with an identification tag (IPP tag)
Maintain initial part production record
---
Initial Supply Control:
Initial Supply control is a process of monitoring & additional control in the process by taking precautionary & preventive actions during the initial period of mass production of a new or changed part for a defined duration.
Initial Supply Control Category :
New part is manufactured – New Product
Similar to other part is manufactured – New Product
Existing part change as per specification change required by the customer – ECN (raise)
Start manufacturing after a long lay-off (12 months) – Process Change
R/M, Product design/process/Tool/ Die/ Machine/ Equipment change/minor change -New Product/ECN/Process Change.
Layout Change – Process Change
Relocated Plant – Process Change
Supplier / Sub supplier Change – Process Change
Period of Initial Supply Control:-
3 Months / 5000 pcs whichever is later for the new part.
 1 Month / 1600 pcs whichever is later for design and process change.

Establishment of Initial Flow Control : Special activities:-
The following activities related to the part (for which initial flow control is being observed) shall be carried out during this period:
In case of customer issue/complaint, 100% inspection to be done for each lot qty.
Special inspection / Process controls that are higher than normal controls. These could be either added inspection points or inspections at higher frequencies.
Process Capability check. It shall be carried out on special characteristics as decided by SQA or defined by the customer once a month
Conduct MSA once in a month                                                                                                       
Conduct Process Audit with control plan per month during initial supply control, the first audit should be a very first day during ISC and second audit in the mid and close all NC's within three days.
During the ISC period if any defect is observed conduct analysis on the PDCA sheet

Information about Initial Supply Control :
  For this Initial Supply Information Sheet is used. By this sheet Information provided to all the concerned person about the start of initial supply control of the specific part. Also mention tentative end date of initial supply. Special control need to be taken during initial supply control. Information can be given through any special format, any MOM or mail with all departments.
Termination Criteria:
Customer complaint should be zero.
Customer rejection ppm should be zero.
In house rejection ppm should be less than company overall in house rejection ppm. We can decide it half of current ppm.
Incoming rejection should be zero.
Process capability index (Cpk) should be more than 1.33
Gauge R & R should be less than 10.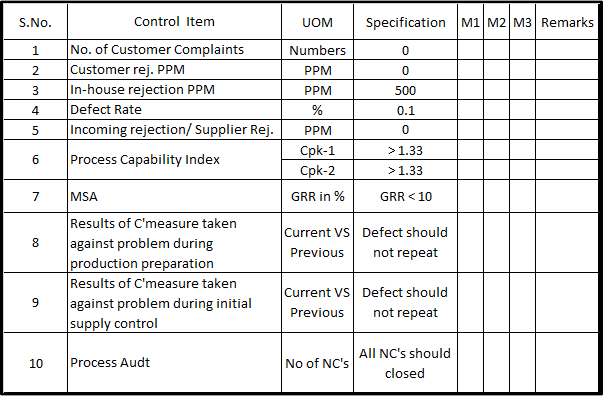 Meeting above target for continuous three months and the result should have an improving trend. If not meeting then initial supply control the period shall be extended till the time all criteria will meet.
Action to be taken in case of targets are not met.
Action plan to improve Cpk and reduce defect rate in case of not meeting the target.
Download the Initial Supply Termination Sheet Format:
Read the story about Initial Flow Control.