Purpose:
The purpose of quality control is to ensure product quality from raw material to the final product.
Scope:
Inspection of incoming material (Bought out Parts, Raw material and material being received after job work), in-process material and finished material.
Responsibility:
Head QA is responsible for Inspection activities at all the stages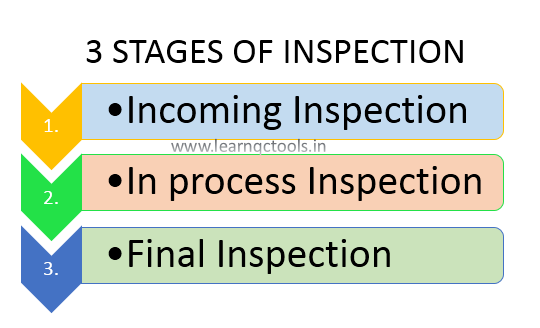 Incoming Material Inspection (Raw Material, Bought Out Parts, Job work) :
Receive goods inward receipt (GIR) from the store
Select sample, inspect material and prepare inspection report
If part OK, Clear GIR and send to store
In the case of NG, Forward the inspection report to Head QC
Review inspection report and mark decision
Reject / Accept under deviation /Hold /Rework/Segregation
Raise QPCR to supplier and ensure required action(s) to be taken by the supplier: Sort the material at our works. Rectify the material at our works. Collect rejection back
If rejected or accept under deviation. Mark decision on GIR. If hold Mark decision on GIR Rework/Segregate.
Get the material reworked/segregated by the supplier or in the plant.
Inspect the reoffered material after rework/segregation.
Follow up with a supplier in case of QPCR sent
After receipt of QPCR monitor the effectiveness of countermeasures.
In-Process Inspection:
Submit initial samples from production
Inspect samples on the Patrol inspection report (PIR)
If sample NG then put the NG setting parts in the red bin.
Reset the machine/tool
Resubmit sample for inspection
If the sample is OK after inspection then
Verbally inform the operator / Shop in charge to start production.
Final Inspection/PDI:
Receive information (after packaging)
Inspection of items to be dispatched. If OK then
Approval for dispatch (to Head Manufacturing)
Forward the Final inspection report to Head QC
Review FIR. / Re-offer for Inspection / Rejection / Concessional approval
If reject or concessional approval. / Identify material / Convey status
If rework & re-offer for inspection. Identify material. Convey status to Manufacturing Head.