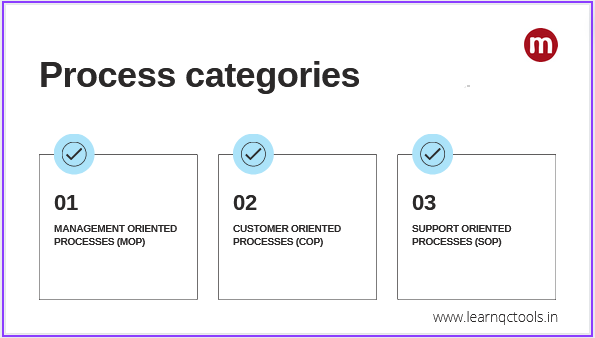 A process is a set of interrelated activities where we provide input and get output with value addition. There are three categories of processes in the quality management system. These are as below:
Management oriented process
Customer-oriented process
Support oriented process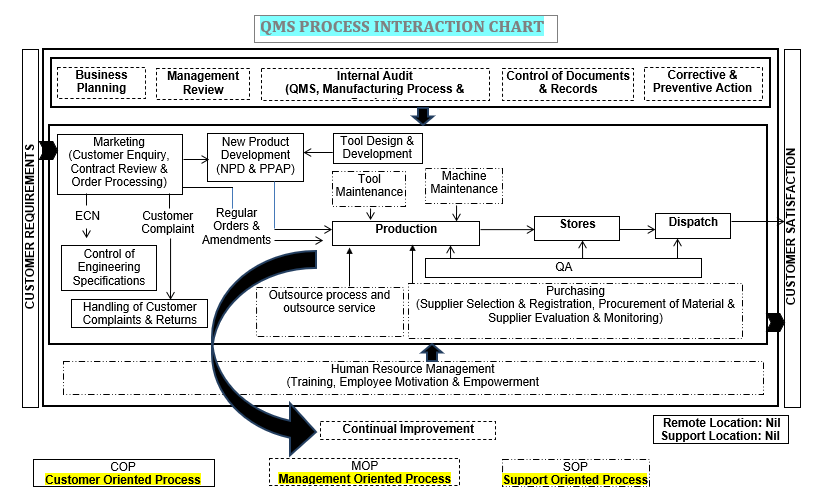 Now we will understand each one of the above in detail.
Management-oriented process:
Management processes are those processes that control, facilitate, monitor and review other processes of the organization. It has the goal of continual improvement of QMS, effective implementation of policies and objectives and providing customer focus to the organization.
Types of Management oriented processes:
Budgeting and resource planning
Establish policies and objectives
Internal communication
Documents and record management
Performance appraisal
Audit and assessment
Corrective and preventive actions
Customer-oriented processes:
Customer-oriented processes are those processes that directly affect the quality and delivery of products by the organization to the customer. These are the value-adding process. These processes start with understanding customer requirements and end with delivering customer value. These processes are directly linked with customers from input to output.
Types of customer-oriented processes:
New product development (APQP)
Production ( Manufacturing)
Marketing
After-sale service
Ordering / Request for quotation (RFQ)
Tender
The key requirement of Customer-oriented processes:
Process add value
Customer requirement identified
The process team has understood the requirement
Customer requirements are fulfilled in a consistent and effective way
Continual improvement
Process performance result status
Support-oriented processes:
The processes which are critical for the effective implementation of customer-oriented processes are called support-oriented processes. As customer-oriented processes need support from other processes to achieve planned outputs. These processes help directly or indirectly value-adding processes by providing various resources in the best usable form.
Examples of support-oriented processes:
Recruitment
Tooling
Finance
Process engineering
IT
Note: This classification is not mentioned in IATF 16949: 2016 standard but is used by most organizations. But for easy understanding of the organization processes, this categorization is done.